By Shaun Bossio and Heidi Reynolds
Editor's note: In this series of posts, we'll share work from The Art of Words exhibit, which ran in the gallery of Follow Your Art Community Studios in November 2021. For this collaborative exhibit, the writers and artists in residence at FYACS exchanged words and art and inspired each other to create something new. Find out what happens when words and art come together.
Prompt
The Starless Night
by Shaun Bossio
The park was lit only by the soft glow of an adjacent street light,
which flickered every few minutes, but never went out.
We sat in the two swings in the center of the park. We searched for the words, but came up empty. The swings moved back and forth, as they slowly gained altitude, and we tried our best to stay parallel. When I'd gotten as high as I could, I dropped from the swing. She went up and down a few more times, and then launched herself, though she veered left. I tried to catch her, but we both ended up on the ground. I turned as we laughed, and our faces were only a foot apart. I could feel the gravity pulling us together. I leaned in and closed my eyes, but then I felt her hand on the center of my chest as it gently pushed me back.
"That's not how this went," she said. There was no reprimand in
her voice.
"I know, but can't I change this one part?"
"Mmmm," she said. "Don't spoil the memory with what-ifs.
Just hold onto it."
Response
The Starless Night
by Heidi Reynolds, mixed media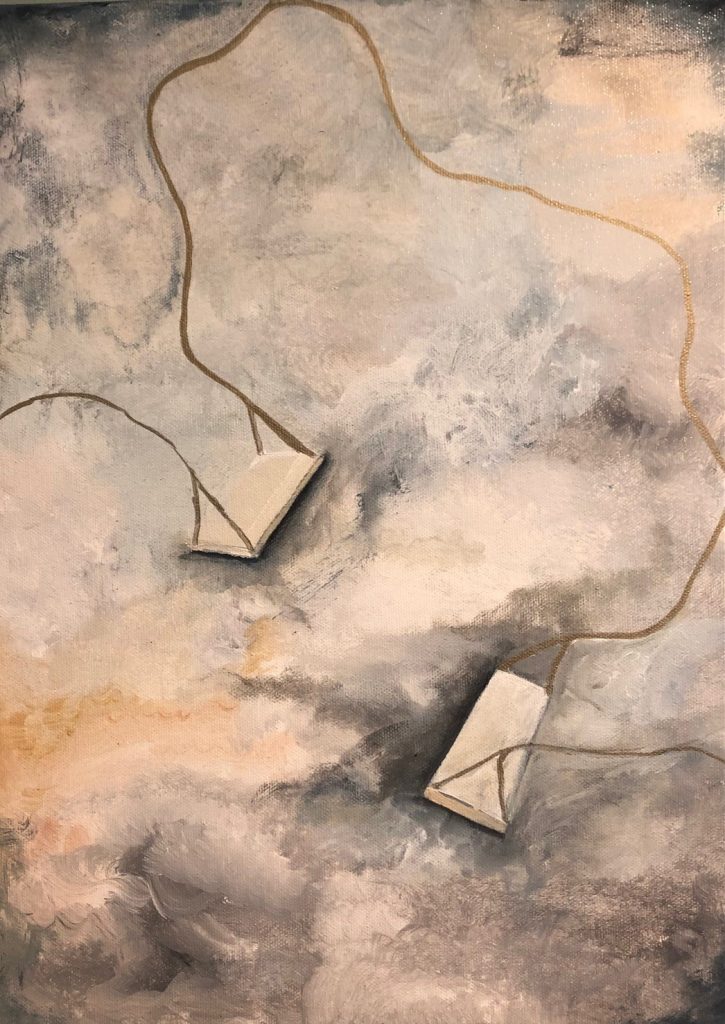 Prompt
How They Waited
by Heidi Reynolds, mixed media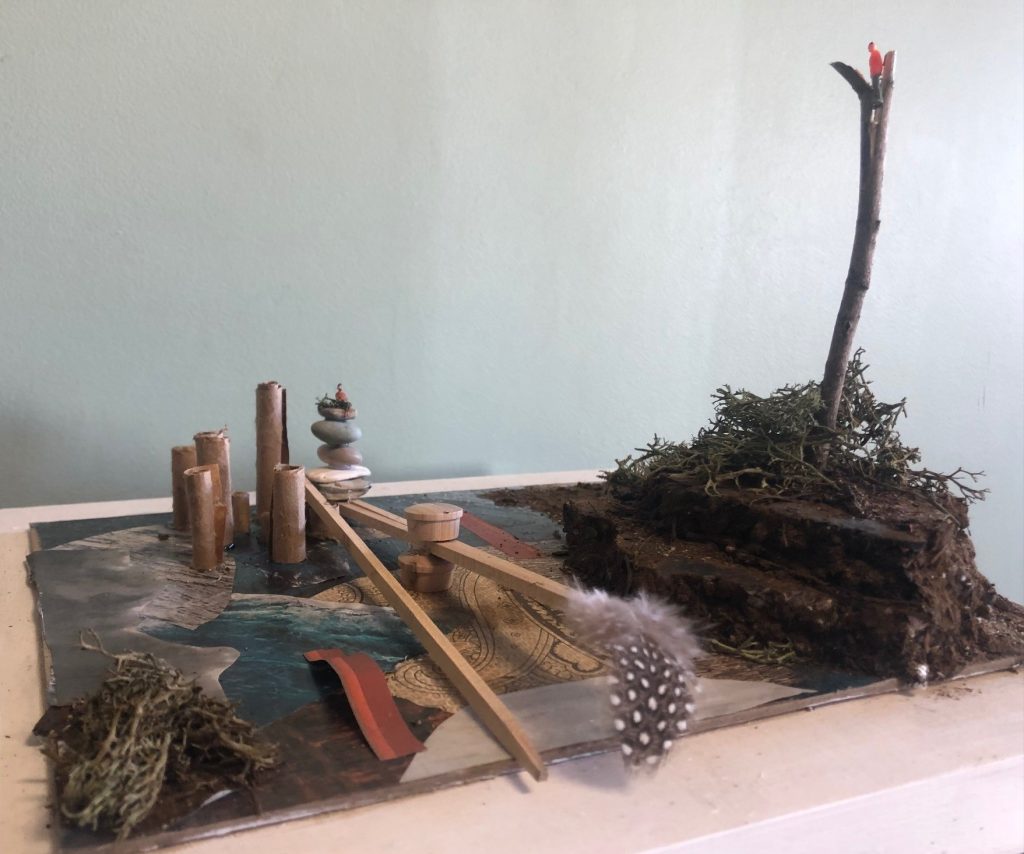 Response
How They Waited
by Shaun Bossio
"What are you making?" she said. He was bent over a small table, and though he looked back, he didn't respond. He only moved to the side so she could see. It was a three-dimensional piece of art. It looked like the corner of an island. He'd used real earth, piled high to one side, and nestled next to the ocean. The waves had been painted on with whorls of blue and white. It was beautiful. She put her hand on his shoulder, and felt him flinch. He stood, and looked her in the eyes. She asked herself when he had last done that. They stared for a moment, and then he left the room.
She looked back at the model. It really was beautiful. She followed the line of the surf until she noticed something she hadn't before: two figurines on opposite ends of the piece. One was seated on a pile of rocks jutting from the ocean, and the other high up in a tree, looking out over it all. They seemed so far away. She wondered what they were waiting for.
Shaun Bossio was born and raised in Boston. He holds an MFA in fiction from Emerson College, and is the former fiction editor of the nationally-renowned literary journal, Redivider. His work has appeared in Typehouse, Palooka, Firewords, and Another House. He is currently at work on his first novel.
Heidi Reynolds is an artist in residence at Follow Your Art Community Studios.
---
Read more stories on Palette.