FYACS builds creative community, in The Big Yellow House and out!
SAVE THE DATE: 3rd Annual Chalk Walk is September 30, 2023
Mark your calendar now:
September 30, 10:00am-1:00pm
Ell Pond, The Big Yellow House and City Hall
Chalk Walk: A Community Art Gallery
$500 Sponsors
$250 Sponsors
Hinge Fitness

The Grover Donahue Family

Liz and Paul Brodeur

The LeClerc/Martin Family

Manjula for Melrose

Colette's Bakery

The Residence Inn
$125 Shared Square
Melrose Rotary

Melrose Kind

First United Methodist Church

The Food Drive
Sam Brodeur

Lucie Coleman

Amy Drago

Thais DeMarco

Olivia Rodolico Frakt

Ell Gimenez

Chris Ingalls and Liza Hostetler-Ingalls

Carson Lynch

Leah Mallozzi

Carol Methot

Kirsten Moran

Antonia Nadeau

Rebecca Pani

Kerry Pegoraro

John Pegoraro

Amy Swan

David Winkler

Gino Zermani
Thank you for making our Chalk Walk a success! Our community (that's YOU!) helped us raise over $9000 to continue the work of our Arts for All Program. DO IT AGAIN IN 2023.
On site we host Gallery Receptions, Author Talks, Live from the Living Room performances and Open Studios among other events. We also collaborate with a broad range of community organizations to host unique opportunities for us to come together through chalk murals, festivals, and community storytelling events. At FYACS we are always looking for ways to welcome you. 
Read on to learn more about the events that we've held and the organizations that we've worked with!
Arts in the Afternoon! A Community Event
Thank you for joining us!
What a WONDERFUL day we had building creative community! Over 100 folks from Melrose and Boston created art together, walked on stilts, hula hooped, juggled, and saw a great show from Circus Up!
If you missed the event, you can still contribute! Our community art project, "What does HOME mean to you?" continues on Thursday at the Melrose Farmers' Market.
Thursday June 10th, 1:00-6:00 pm
Bowden Park (Cedar Park), Melrose
Funded by Arts for All and a generous grant from the Massachusetts Cultural Council

MLK Jr. Day Community Art Project
When you fly through your imagination…
What do you see?      Where do you go?
Faith Ringgold uses visual art to tell the story of 8-year old Cassie Lightfoot, who flies through the sky on a summer night in 1939 Harlem and dreams of a life of possibilities beyond her surroundings. This MLK Jr. holiday, we celebrate Dr. Martin Luther King, Jr's spirit of dreaming and the belief that 'anyone can fly.'
Friends around Melrose joined us in this project:
They made their own 6 inch quilt square to answer the question posted above

Volunteers assembled the squares into a completed quilt!
Thank you for participating in our project!
We hope someday soon to have this on display in a public location for all to see. 
In collaboration with the Melrose Alliance Against Violence, with funding by the Melrose Messina Fine Arts Fund, a new mural supporting MAAV's Candlelight Walk and Vigil will be going up on the wall of the YMCA this October. The design will invite spectator participation, stay tuned. 
Catch Melrose Open Studio Tours for the month of November with virtual artist demos on FB and MMTV. FYACS artists Kerry Pegoraro and Jen Blesso are on the tour, as well as Board Member Sue Lembo.  
Artists have been selected and sketches have begun! FYACS is working with the Melrose Public Art Initiative to facilitate the development and installation of 8 public art works in Melrose. Learn more here!
We love to open our doors to arts organizations that need space to run creative programs that benefit our community. Filmmakers Collaborative ran their June Stop Motion Animation program in the Big Yellow House, and we welcome them back again!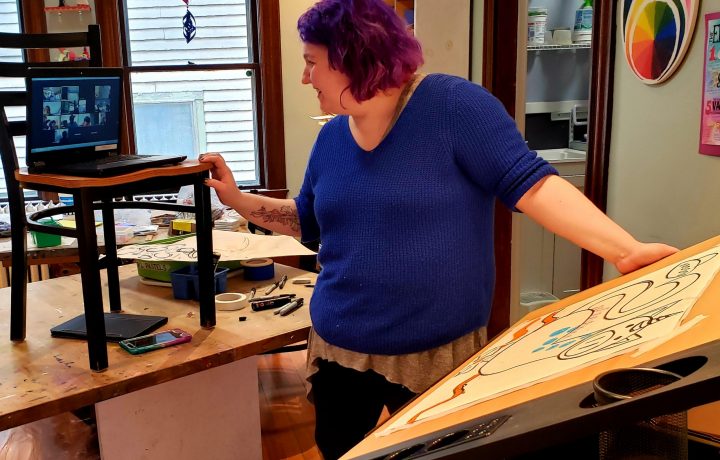 FYACS has a history of collaborating with schools, daycare centers, and community groups to bring art beyond our walls. Our newest collaboration is virtual! From March through June, we partnered with Riverside Community Care to provide virtual art classes to their families. This partnership will continue in September, and we are thrilled to be working with such an incredible organization and meeting such creative artists of all ages and abilities.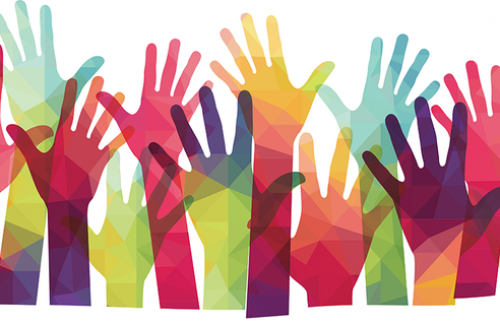 We welcome community partnerships with schools, nonprofits, community groups, municipalities and private businesses to bring creative self-expression to a wider audience. If you are interested in creative collaboration, email our Director at krodolico@fyamelrose.org
Creative Community Bulletin Board