Editor's note: This post recreates a fashion exhibit of 10 gowns created by local designer Stephanie Couchell, which was held at The Greater Boston Stage Company on November 30, 2022, as the culminating event of her 2022 Foundation Trust Emerging Artist Fellowship at Follow Your Art Community Studios.
Q&A with Designer Stephanie Couchell
Shredded Beauty is more than a fashion exhibit. It tells a story. What story does it tell?
Shredded Beauty speaks to the pain, suffering, and ultimate healing that humans experience after surviving trauma. This particular exhibit focuses on chronic childhood trauma and how it impacts a person's life. There are strong themes of abandonment and neglect throughout; however, the initial trauma inferred at the beginning of the exhibit is never explicitly stated. I did this to create space for viewers to experience the exhibit more intimately, so they can put themselves in the lead role of navigating the pain and complexity of living a life that has been greatly impacted by trauma.


What inspired you to tell this story?
The inspiration to tell this story in this particular format developed over several years. I was completing my program in women's fashion design, and reflecting on the projects I had finished, which all seemed to convey the emotional space I was in while working on them. It was around this time that I happened to watch McQueen, a documentary on the life of Fashion Designer, Alexander McQueen. McQueen, like many artists, was an incredibly tortured soul, and tragically, also like many artists, took his own life. It felt as if McQueen's work came from a place of incredibly complex and contradictory emotions, simultaneously attempting to expel agonizing feelings while desperately working hard enough to bury all emotions to never feel anything. The documentary inspired me to tell a story, my story, in the medium that felt most authentic to me. Reflecting back now, it was a moment of enlightenment to tell my own story in part for the catharsis I knew it would offer, and in part to save my own life from the fate of the "tortured artist."


What do you hope people take away from this story?
Life is not a fairytale; and, for those suffering from complex trauma, finding stability and a sense of lasting safety is a monumental undertaking. The idea of a happy ending feels naive and incredibly unrealistic. I was heavily focused on remaining honest. I wanted people to leave the show with the assurance that life can get so much better, while also validating the very real memories of pain that may never fully go away.


Can you tell us a bit about your year as a Foundation Trust artist-in-residence at FYACS?
The year I spent being sponsored and mentored by The Foundation Trust and FYACS has been full of personal and professional growth. Being welcomed as an artist-in-residence at FYACS has opened up many doors and fostered impactful connections with other artists. The sense of community and support has been so helpful in broadening my professional world.


What are you working on now?
Currently, I'm working on private commissions while also accepting new clients in search of bespoke women's wear. Some of my active projects include a prom dress, repurposing an heirloom wedding dress, and creating everyday wear for a client with limited mobility. I maintain studio space at FYACS and fill my days creating patterns, cutting, sewing, and listening to way too many true crime podcasts.
Shredded Beauty: The Exhibition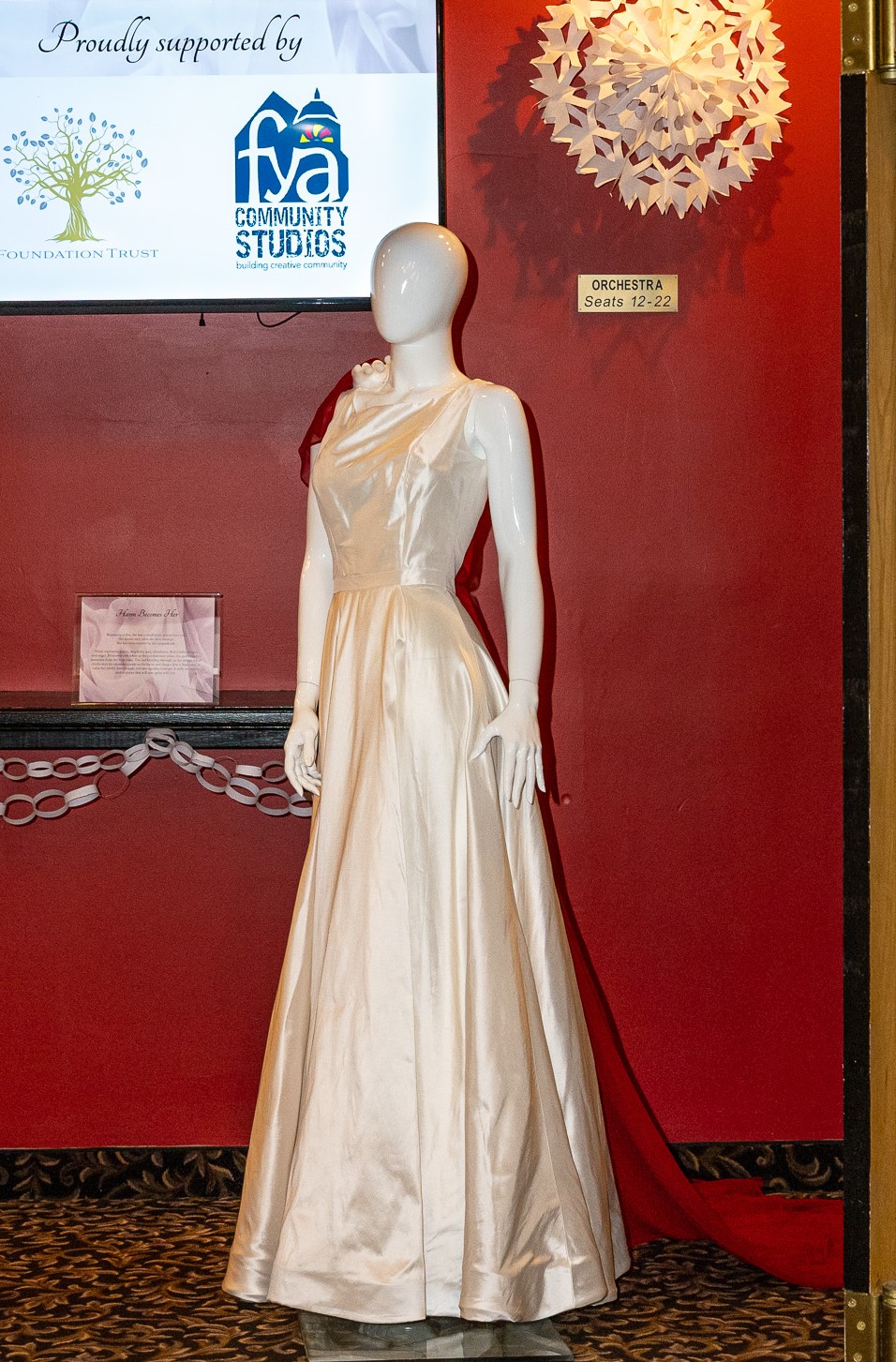 Look One: "Harm Becomes Her"
Beginning at five, she has a small smile and serious eyes. She knows only what she lives through. She has been scarred by the unspeakable.
White represents purity, simplicity, and, cleanliness. Red implies danger and anger. Presented with white as the predominate color, this gown implies innocence from the beginning. The red bleeding through, as the sinister hand climbs over the shoulder speaks to the harm and danger that is beginning to infest her world. Interestingly, red also signifies courage. A sadly necessary undercurrent that will now grow with her.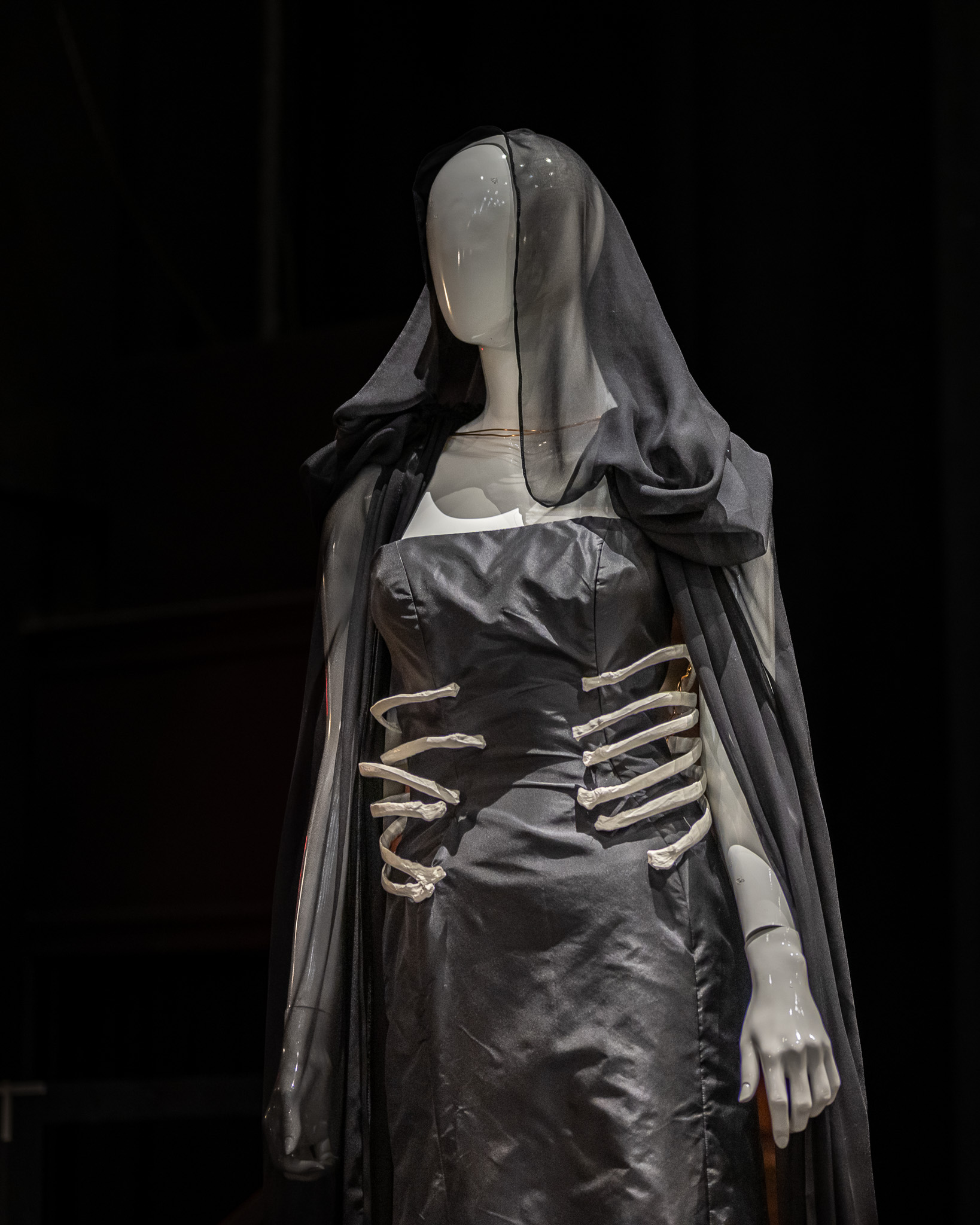 Look Two: "She Exists at the Edge"
She exists somewhere between the edge of death and the edge of life. She longs to feel nothing, to let darkness cradle her and the freedom of a dreamless sleep consume her.
The rib cage winding around her waist, while hanging from copper cording, choking her, is an overwhelming statement on the desire to die. The form-fitting black gown hugs her, holding on tight to the thought of disappearing. Simultaneously, the sheer cape covers her, adding to the oppression of the gown, while also offering a hazy view of the world she wants to leave behind.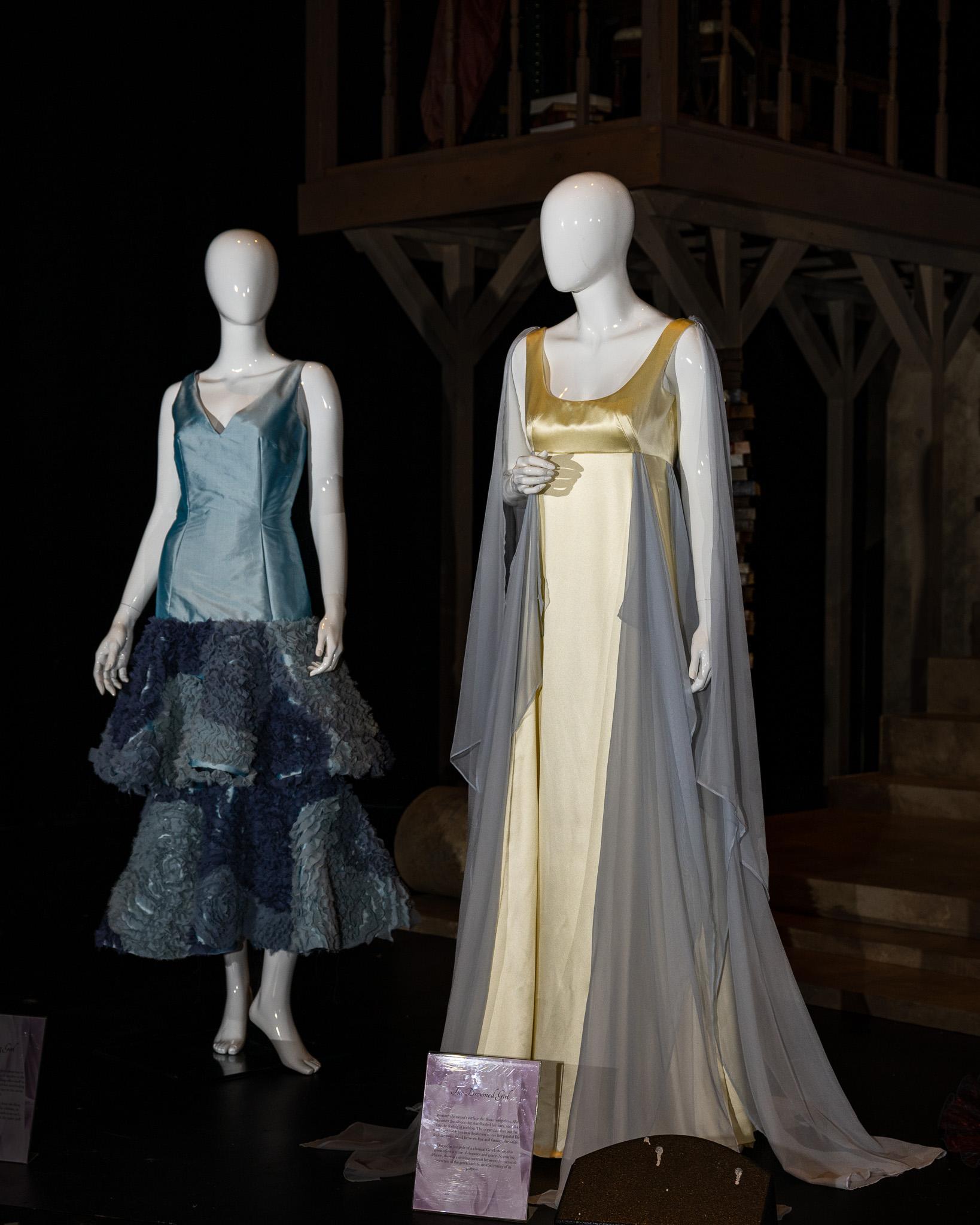 Look Three: "The Falling Girl" (left)
She lets go… "Suicide is a lonely ghost desperate to give itself playmates." 1 The cliff edge gets smaller as she drops towards the ocean's surface. Falling offers itself as freedom from the world that has caused her unrelenting pain. The water envelopes her, pulling her to the ocean floor. She does not fight.
The tiers of this ocean blue gown climb from the floor, up her body, slowly submerging her. The ribbons, in different hues of blue, wind around themselves on each tier tangling themselves into her wish to let the water pull her beneath its surface.
Look Four: "The Drowned Girl" (right)
Beneath the ocean's surface she floats, weightless. She welcomes the silence that has flooded her ears, and sinks into the feeling of nothing. The ocean has shut out the world and holds her in a daydream where her painful life feels far away. Stuck between fear and fantasy, she waits.
Draped in the style of a classical Greek statue, this gown offers a sense of elegance and grace. Appearing delicate, there is a striking contrast between the romantic inference of the gown and the morbid reality of its purpose.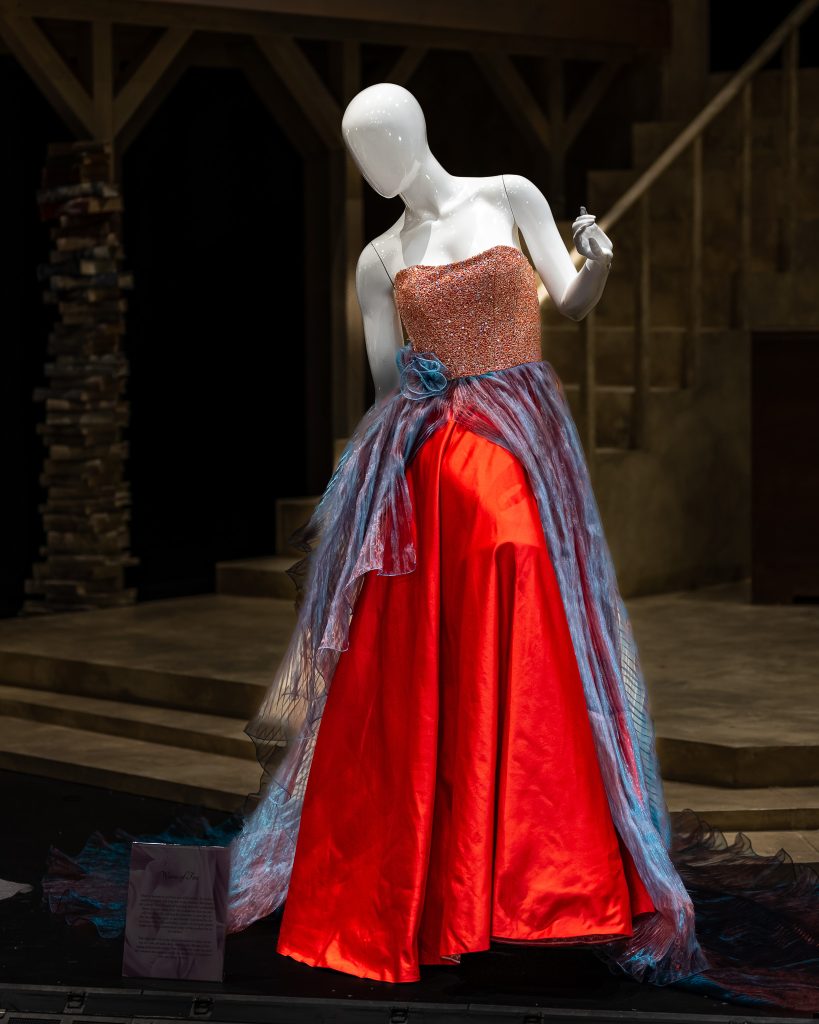 Look Five: "Waves of Fire"
There is no one to pull her out of the water. To reach in, grab her hand, and help her to the surface. She knows she's alone. The thought of rescuing herself is unbearably heavy, but no worse than the realization that no one will save her. Die waiting for someone to save her, or live because she chose to save herself. Infuriated by the necessity to keep herself alive, a pulse of strength sparks inside her and a momentous surge of fire pushes her to the surface.
The blue and red of the pleated iridescent fabric sit on top of a silk red satin skirt, creating the illusion of fire raging underneath water. The inability for water to catch fire assumes the same inability for suicidality to transform into the desire to live.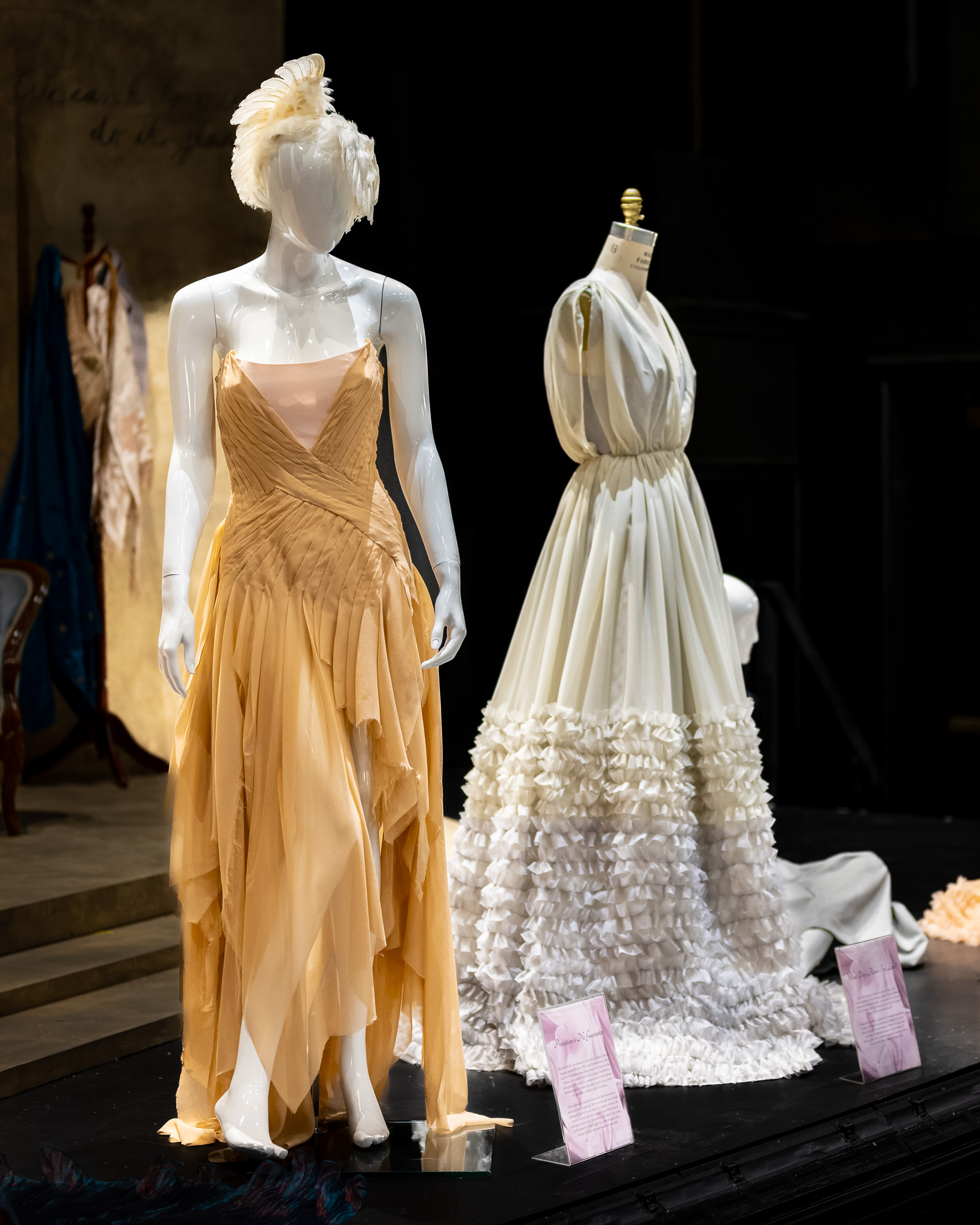 Look 6: "Protection Is No Guarantee"
Battered by the circumstances of life, she vacillates between longing and indifference. She longs for protection, safety, and love but knows those things cannot be trusted to last. Instead, she guards herself with a mask of indifference and apathy. She exists in a constant state of ambivalence. Running towards protection only to push it away before the possibility of safety will let her down.
The unfinished, shredded look of the skirt shows that a storm has been weathered. What survives has been deeply damaged. Left worn and weary by constant turmoil, the strands of fabric have been ravaged and offer minimal coverage or protection. In contrast, the winged cap wraps itself around her head signifying a deep longing and a glimmer of hope that safety and love can exist.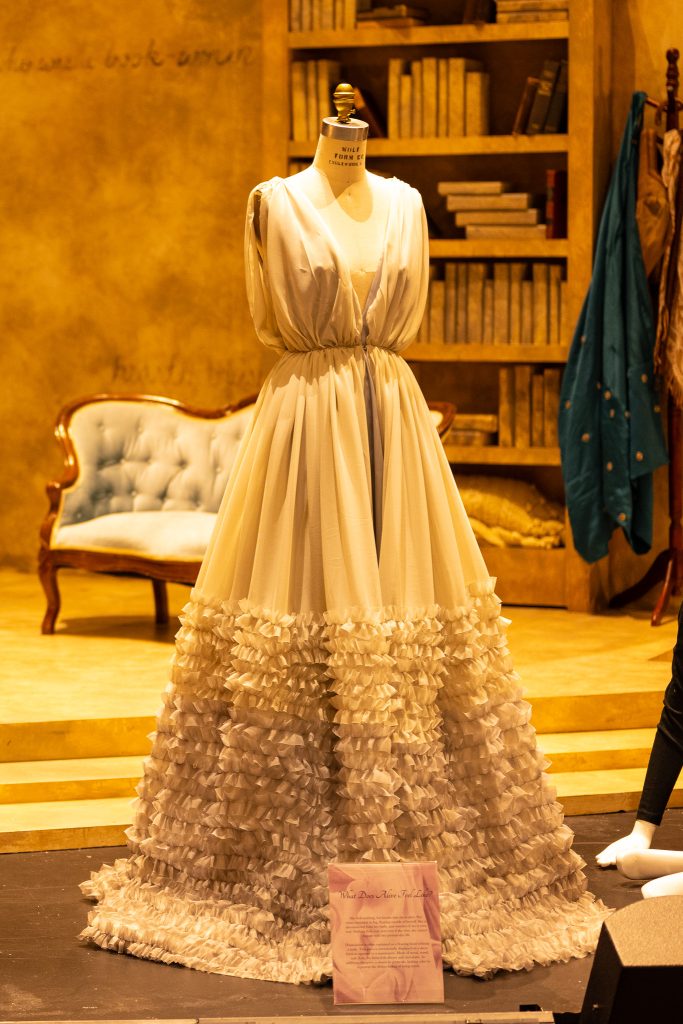 Look 7: "What does alive feel like?"
She feels nothing, but knows that she is alive. She exists shrouded in fog, floating outside of herself. She is disconnected from her body, and wonders if she is even real. Nothing feels real, and even if she tries, she cannot engage with her present-day life.
Dissociation is often explained as a floating head without a body. This gown is intentionally displayed on a dress form as opposed to a mannequin. Made of metal, wood, and cloth, the form feels distant and unrealistic. In addition, the gown is shown in greyscale, lacking color to represent the lifeless feeling of being numb.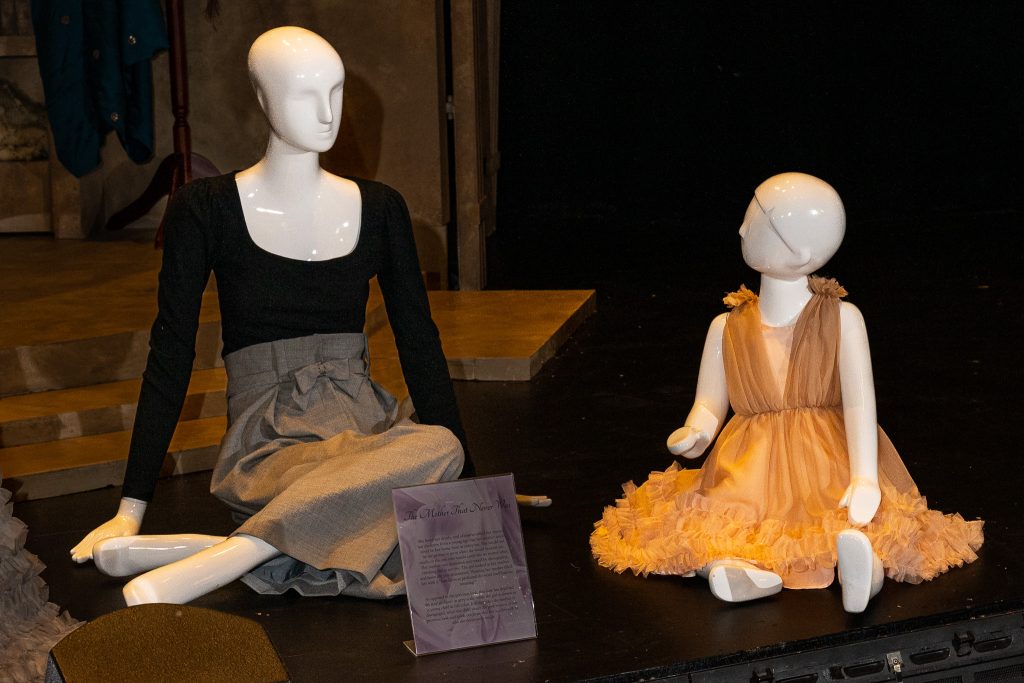 Look 8: "The Mother That Never Was"
She loved her dearly, and of course called her mama, but she knew from a young age that her mother would never be her home base or safety net. She would not be the person to go to when the world became too much, or the one who would catch her no matter what. Her mother was depressed and coped by disengaging, checking out to survive. The girl looked at her mother and knew she was abandoned. Wanting her mother filled her with a "loneliness so profound the word itself had no meaning." 2
As opposed to the previous look, this look has depicted the mother figure in grey scale, while the girl is shown as a young child in full color. It is clear that the mother is disengaged, while the child wears the pink version of the previous look and holds out hope that her mother will be who she desperately needs.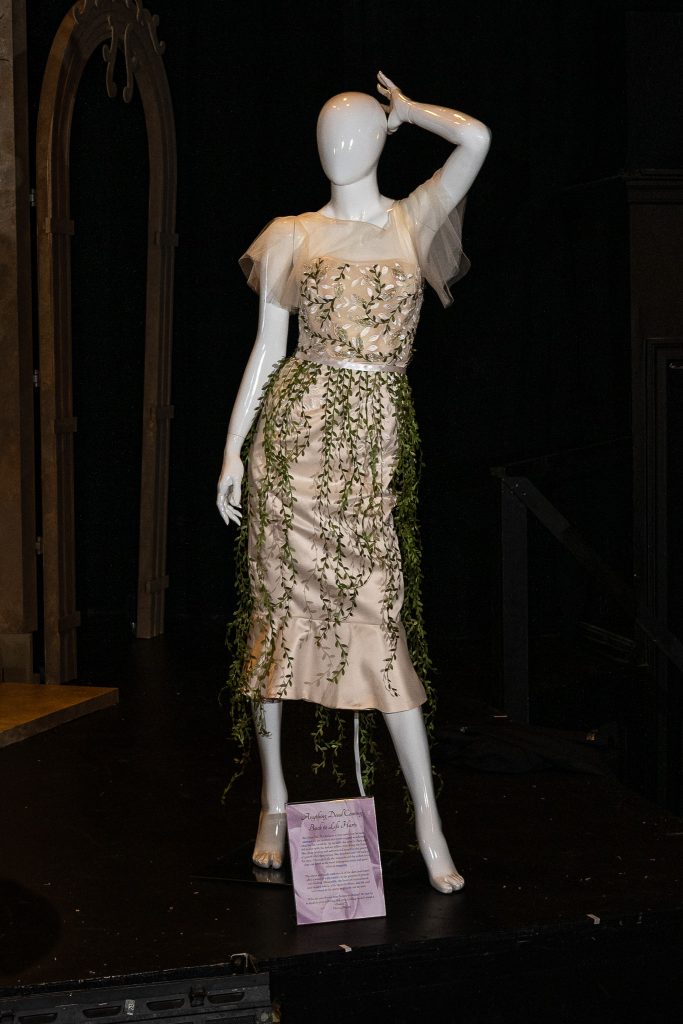 Look 9: "Anything dead coming back to life hurts."2
She chose life. Not because it was easier, but because amongst all the turmoil she never stopped wondering what her life could be. As an adult she went to Paris and fell in love with the forlorn willow trees lining the Seine. She chose healing and surrendered herself to the process of growth after destruction. She stumbled and fell back all the time. Through it all, she remembered the willow trees that can bend in the most outrageous poses and grow without snapping.
The sheer and nude undertones of the skirt and corset offer a sense of vulnerability to the process of growth and healing. Meanwhile, the layers of embroidered and beaded leaves, with vines of ribbon, add life and movement to the gown as growth can be seen.
"Who are you if your story begins to change? Do not be so loyal to your suffering that your healing doesn't stand a chance." 3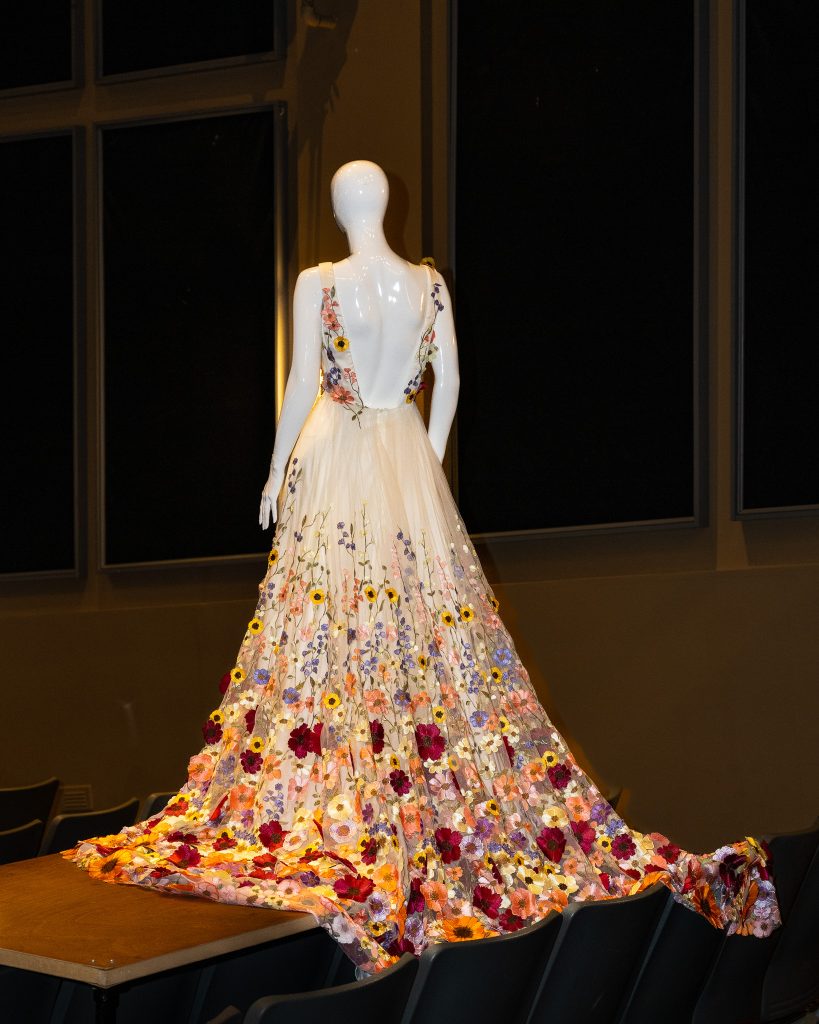 Look 10: "Run Wild, Run Free"
She is me, and as I have moved through all these phases and achieved moments of fulfillment and success, I am still the young girl who found a way to grow up in a world of abuse and abandonment. Sometimes I live in a place of light where I see myself content and uninhibited. Sometimes I find myself in a much darker place. Healing is not linear, and life is very much a work in progress. I can now say that sadness and pain can coexist with happiness and fulfillment, and that's okay.
With flowers and vines climbing from the hemline and navigating their way across the entire gown, this look is a culmination of the tremendous effort it takes to heal and grow. The flowers offer themselves as a playful invitation to embrace whimsy, and reconnect with the pleasure and curiosity that come along with each new day. The white color of the gown references the innocence of the first gown as a reminder of both past and future journeys.
"Sometimes when you're in a dark place, you think you've been buried, but maybe you've been planted." 4 Allow yourself to bloom.
Quotes sourced from: 1 Button Poetry, 2 Toni Morrison, 3 Vienna Pharaon, and 4 Christine Caine.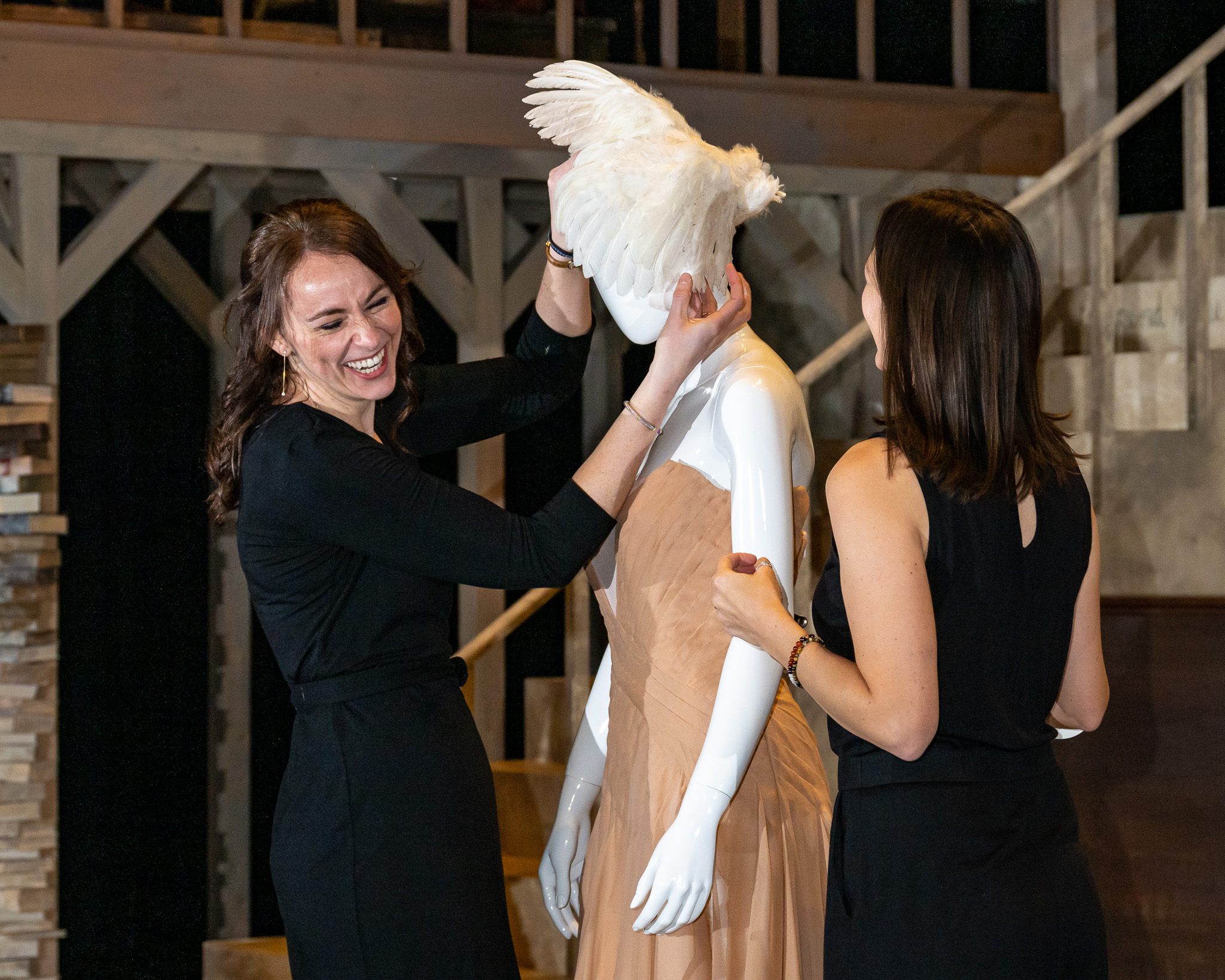 –
About Stephanie Couchell
With a professional background working in higher education, Stephanie pursued the study of fashion design after deciding that what felt like an unrealistic career was entirely achievable. In December of 2021 she completed her program at the School of Fashion Design, Boston, earning her qualification as a Fashion Designer of women's apparel with technique-based training in pattern making, clothing construction, French draping, and fashion sketching. As well as sharing her work at local fashion shows, photo shoots, and events, Stephanie has worked as support faculty for the School of Fashion Design starting with their summer teen program, and now working with fully matriculated students. It was while working for Boston-based Bridal designer Daniel Faucher, that Stephanie cemented her love for the time-honored techniques of couture. It is this level of attention and detail that she strives to bring to her own work. Creating bespoke designs for individual clients brings her the most joy.
See more of Stephanie's work on Instagram @stephanie_couchell
---
Read more stories on Palette.