Editor's note: Shared by 5 visual artists, Studio 3 is located on the second floor of FYACS. Here's a peek at one of those artists. Erika Lally is a mixed media artist with a Masters in Art Therapy from The School of The Art Institute of Chicago. She is also the recipient of The Foundation Trust Working Artist Resident award.
I love the tactile quality of using my hands, cutting, smoothing, sticking, melting, digging. I am interested in forests, light, shade, depth, nature and culture. I want to start visual dialogues with others: for them to see my work and then see deeper into what images meld to make it. The longer you look and engage, the more you will see.
I've never publicly shared my art, so this is new and strange. I applied for the FYACS grant at a very busy time in my life, not knowing how it would unfold, or if I would have the bandwidth to do it. However, I knew I would regret it if I didn't and, anyway, it was a long shot. Hands down, receiving this studio space as Foundation Trust Working Artist Resident for two years is the gift of a lifetime.
I have always loved creating art of out things and I grew up playing and finding peace in the woods. I am the person people raise eyebrows at, as I pick up and haul home random objects and treasures. My media is glue and anything it can stick together: magazines, found objects, wood, wax, moss
My art has always had two real themes: nature and people. I studied lithography in college and loved the process of etching and carving and then (at my beginning level) never really being sure what the print would look like. This led to my exploration in combining media to see what I could discover, intentionally or by accident. A few years ago, I started setting problems to solve in my canvases. Could I create a forest out of skin and hair from magazine advertising? Check. In doing so I fell in love with finding images and using them to create something else.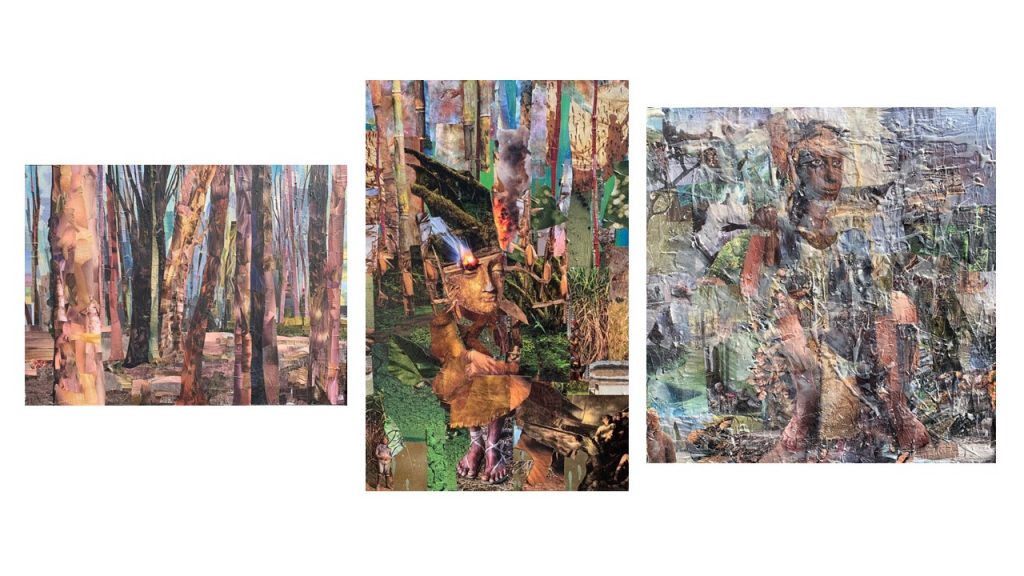 I have been jarringly impacted by the outpouring of hate in our country over the past three years. It has help me to see how sheltered I am and how much I truly take my safety for granted. This is ironic as I am a trauma therapist and I hear, daily, how many ways humans can hurt each other. This is my white privilege. All of this has changed my art.
Currently, I am piecing together a large landscape (30" x 60") about colonization in the U.S. and those displaced. In this canvas, the forest is the witness and tells multiple stories. It is a work in progress, perhaps 80% complete. It is a three-dimensional collage on canvas incorporating sticks, bark and images from books and magazines.
A gestalt is an organized whole that is perceived as more than the sum of its parts. Aristotle opined that the whole is greater than the sum of its parts. My art explores the multiple layers of images and the interplay of the parts that make the whole.
COVID 19 has increased my art production as I can't swim or do martial arts with my people. Art is self-care for me so and I have been busy!