In Real Life: A Community Storytelling Event presents…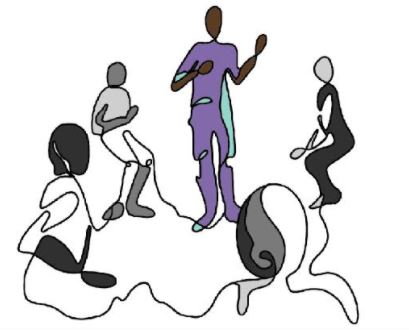 Taking Up Space:
Elevating Stories of Lived Experiences with Disability
Saturday June 10th, 7:00-9:00 pm
A Collaboration with FYA and Melrose Commission on Disability
Hosted by Temple Beth Shalom
21 East Foster Street, Melrose MA
Sharing stories builds community
Follow Your Art Community Studios (FYACS) and the Melrose Commission on Disability are hosting a community storytelling event at Temple Beth Shalom, Melrose, on June 10th from 7:00-9:00 pm, along with a live-streaming option through MMTV. This event elevates the stories of individuals with lived experience with disability, whether as individuals who are disabled or as loved ones who live in proximity.
Meet our Hosts
Becky Kekula serves as the Disability Equality Index (DEI) Senior Director at Disability:IN. Since she started at Disability:IN in 2017, Becky has more than tripled the number of U.S. DEI participants from 110 companies to over 400 companies. In her current role, she's responsible for managing all things related to the U.S. DEI.
Becky currently serves as Employment Chair of Little People of America (LPA). She's also a member of the Board of Advisors for the National Center on Disability and Journalism (NCDJ) at Arizona State University, Positive Exposure, and Understanding Our Differences.
Erin Ryan Heyneman (she/her) is a disabled speaker, educator, and creator. She holds a certificate in Leadership for Diversity, Equity, and Inclusion from Northwestern University and serves as Secretary on the Melrose Commission on Disabilities (COD). Erin openly discloses that she has motor and cognitive impairments due to advanced Multiple Sclerosis. Prior to her disabling impairments, Erin had a fulfilling twelve-year career as a high school English teacher. Her speaking events demystify inclusion and access for a not-currently-disabled general audience. She firmly believes that awareness Education is the first step toward a more inclusive society: because we don't know what we don't know! Erin lives in Melrose with her spouse Peter and their two children who attend MPS.
We welcome persons with disabilities and of all identities and world views. Please reach out to Kris Rodolico (krodolico@fyamelrose.org or 781 665 4140) to share any disability related accommodation that you will need to participate in or experience the event.
Join our storytelling community.
About In Real Life (IRL)
IRL started as a collaboration with Melrose Organizes for Real Equality (MORE), a grassroots organization dedicated to centering diverse voices in Melrose and surrounding communities. Since 2018, IRL has found it's home as part of Follow Your Art Community Studios and has organized 5 larger community storytelling events with themes like "Home," "American Like Me," and "Who Do You Think You Are?"
As we continue to build a storytelling culture in Melrose, FYACS hosts small storytelling events as part of our Live from the Living Room series, to provide a safe, supportive and low-key environment to practice telling and listening. We invite you to help us grow our storytelling community!
This year, our annual June event is a collaboration with the Melrose Commission on Disability that centers the stories of individuals whose lives have been impacted by disability. If you have any questions, please email Kris Rodolico at krodolico@fyamelrose.org.
---